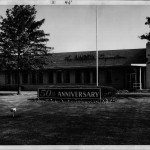 Cleveland Based Manufacturer Weathers Historical Regional and Global Trends
February 25, 2014 – (Cleveland, OH) Cleveland-based manufacturer Barth Industries is celebrating its 100th year of operation in 2014. The company began as a family owned tool and die shop and quickly grew into a stamping plant initially servicing the automotive industry, and then further evolving to manufacture built-to-specification manufacturing systems and production quantities of machined components and welded fabrications for Fortune 500 companies. Today Barth serves a wide global range of industries including: robotics, medical devices, industrial equipment, production systems.
"Throughout Barth's history, the company has built everything from automated machines for tires, diapers, razors, batteries and food to parts for MRI machines, lift trucks, motors, transmission, lawn & garden equipment and adventure parks," said Clark Neft, president of Barth Industries. "Our 100th anniversary speaks to the manufacturing resiliency in this region. Trends come and go, but this company has always been focused on working with its customers to cost-effectively manufacture anything they need."
Over the years, Barth has manufactured parts and equipment for many well-known global companies, additionally; Barth works with many startup companies to launch new products and manufacturing systems.
"We can basically create a factory within a factory here at Barth," said Neft.  "This allows our customers to concentrate on selling their product while we create a platform to facilitate that growth."
Barth has grown in Cleveland over the decades, acquiring American Machine Builders in 1991 and Landis Machine in 1997.  Today, Barth employs skilled workers including welders, machinists, and machine builders supported by a team of program managers and manufacturing engineers. Barth is ISO 9001:2008 Certified.
Barth's 167,000 square feet of facility includes: fabricating, machining, and assembly operations ready to manufacture everything from parts to entire manufacturing lines. Barth ensures on-time delivery and maintains cost with a full complement of machining centers and CNC production machines. These capabilities, combined with the manufacturing resources of Northeast Ohio, provide efficient and cost-effective production for customers' parts, assemblies, and machines.
For more information on Barth visit www.barthindustries.com